An die Musik Live Has Gone Virtual!
A link will be revealed to you 15 minutes before showtime.
Concert links are active for one week after the performance, so you can watch them again.
** Recordings of all past live-streamed shows are available for purchase for only $5 **
Please scroll to the bottom of the events list to access our library of recordings.
Please consider adding a donation at the time of purchase
or by opening the "Donation to Support An die Musik Live and Musicians" event listing.
A Classical, Jazz & World Music Concert Venue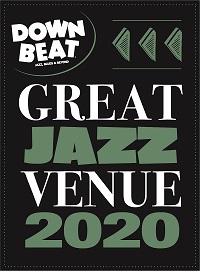 Top 100 Jazz Venues in the World — Downbeat Magazine
Best Jazz Venue 2019 — All About Jazz Reader's Poll
Great Jazz Venue 2016, 2017, 2018 – DownBeat Magazine
Top 10 Best Live Music Venues in Maryland – BestThingsMD.com
Baltimore's Best Jazz Space 2005, 2007, 2008, 2009, 2011 – Baltimore City Paper
Baltimore's Best Jazz Venue 2005 – Baltimore Magazine
Enjoy the ambiance that adds to the experience of the music. An die Musik Live is located
on the second floor of a historic townhouse, so unfortunately it is not handicapped accessible.